Hadrien Barbecue
To enjoy unique moments outside
The Hadrien Barbecue is made of reconstituted natural stone. Therefore it reflects the charming aesthetics of old buildings with a hand carved stone.
It is an indispensable element in an outdoor area because it will adapt harmoniously with a garden, a swimming pool, or all the surrounding aesthetics.
.
Barbecue Assembling Scheme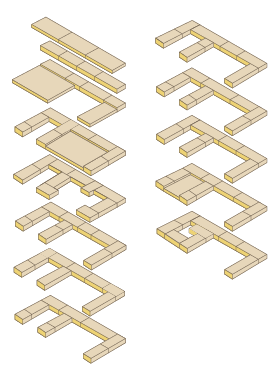 A essential element in your garden or pool surrounding. Rather easy to built and with an unique design, you have the pleasure from your own creation.
The Hadrien stone cladding offers you the chance to build a barbecue in a simple and methodical way. It is only necessary to put some blocks on top of each other. As a result you will find two types of barbecue: double and triple.
The Hadrien reconstituted natural stone cladding offers you, among many possibilities, a functional barbecue. Hence, this element for garden or terraces is the ideal choice to enjoy the best moments in the exterior of your home. Capable of offering the typical carved limestone appearance, the Hadrien stone cladding is the central element of this barbecue.
With a four-sided finish, the Hadrien reconstituted stone cladding blocks have various dimensions and textures that allow infinite possibilities of application. Do to this infinite possibility of application, Hadrien has a perfect finish because of the crown wall application.
The Hadrien barbecue is the ideal element that fits perfectly in your garden or terrace and will allow hours of fun and consequently socialize with friends and family